Save the date - Thursday 2 May 2024
We're excited to announce the date for the BSMT Conference 2024.
More details to follow including speakers, registration and more.
We hope to see you there!
38th ANNUAL MICROBIOLOGY CONFERENCE
Royal Air Force Museum, Hendon
Date: Thursday 11 May 2023
Current Topics in Microbiology and Infection
Read 3 previews about the Conference - see Articles below right

Profiles for Chairs and Speakers
Overview of the development of AMR and approaches to controlling it
Professor Alasdair MacGowan, Professor of Antimicrobial Therapeutics, University of Bristol
An update on susceptibility testing methods
Dr Mandy Wootton, Scientific Lead, Specialist Antimicrobial Chemotherapy Unit, Public Heath Wales, Cardiff
Rapid sequencing techniques for the detection of AMR and their use in typing and Infection Control
Dr Nathanial Storey,  Department of Bioinformatics, Great Ormond Street Hospital, London
Laboratory development for AMR surveillance in low- and middle-income countries
Dr Claire Gordon, Consultant in Infection, Rare & Imported Pathogens Laboratory (RIPL) UK Health Security Agency, London
Molecular detection of enteric pathogens, results of a network wide analysis of the use of the Serosep EntericBio Gastro Panel 2
Michael Perry, Lead Clinical Scientist, UK Anaerobe Reference Unit, Public Health Wales Microbiology, Cardiff
The advantages and disadvantages of molecular methods over culture in the detection of orthopaedic infections
Dr Kevin Cole, Senior BMS, North Tyneside General Hospital, Newcastle
Group A streptococcal infections and other infections in children in the post-pandemic period
Dr Charlene Rodrigues, Consultant in Paediatric Infectious Diseases, St Mary's Hospital, London and London School of Hygiene & Tropical Medicine  
Dr Kate Templeton, BSMT President and Professor Brian Duerden CBE, chaired the conference
LAST YEAR:
37th ANNUAL MICROBIOLOGY CONFERENCE
We are delighted that despite COVID, train strikes and being held on the hottest day recorded in the UK, the conference was a great success!
We are grateful to the staff at the RAF Museum for working so hard to cope with the weather.
Royal Air Force Museum, Hendon
Date: Tuesday 19 July 2022
The Genomic & Microbiology Revolution: In Technology we Trust?
THE PRESENTATIONS HAVE BEEN MADE AVAILABLE TO ALL WHO REGISTERED
Read a Report of the Conference, the Programme Preview, Looking Forward and a Commercial Preview.
Speakers (read the profiles of the moderators and speakers):
Professor Paul Dark, National Deputy Medical Director, NIHR Clinical Research Network
Developing the best evidence for effective molecular diagnostic technologies in sepsis: impacts of a viral pandemic
Dr Katie Hopkins, Clinical Scientist Microbiology, UKHSA Colindale
Current methods & problems in testing for antimicrobial resistance
Adela Alcolea-Medina, Guys & St Thomas's Hospital, Viapath
Direct sequencing from clinical specimens for the rapid detection of viruses

Dr Natasha Weston, Senior Infectious Diseases and Microbiology Registrar, University Hospitals Birmingham NHS Trust
Whole Genome Sequencing of MTB and other mycobacteria: what can we learn beyond ID and sensitivity? 
Dr Elaine McCulloch, QCMD
The need for quality assurance in molecular diagnostics & NGS
Dr Esmita Charani, Research Lead (Practice, Design and Engineering), NIHR Health Protection Research Unit, Imperial College London
Antimicrobial stewardship: an international perspective
Dr Dinesh Aggarwal, Wellcome Clinical PhD Student, Department of Medicine, University of Cambridge
Genomics in understanding and controlling the COVID-19 pandemic
Professor Brian Duerden CBE chaired the afternoon session.
Dr Mark Wilks, BSMT Science Lead, ably chaired the morning session standing in for Dr Kate Templeton whose plane from Edinburgh was cancelled because of the weather.
I am pleased to say that there was a full Trade Show with 19 of the 20 expected commercial companies making it through the heat. Unfortunately Alpha Labs were thwarted.
The BSMT is very grateful to these commercial companies who are sponsoring the 2022 conference, some of whom have supported the BSMT since its inception 37 years ago.

COVID:
We ran the conference to be as COVID safe as we could be and no one to date has reported to me that they caught COVID during the conference.
In view of the uncertainties associated with the pandemic, the BSMT committee moved this year's face-to-face event to 19 July.
Valerie Bevan BSMT Chair
vbevan@bsmt.org.uk
About the Conferences
BSMT conferences are aimed at senior biomedical and clinical scientists, other scientists, medical microbiologists and other healthcare professionals. They are particularly relevant for bench microbiologists to provide up-to-date information about organisms and techniques especially with regard to new molecular technologies.

Read more
Announcement from UK SMIs
UK Standards for Microbiology Investigations are available on RCPath website from 30th October 2023. Please bookmark or save the new webpage to your favourites folder to ensure easier access to the online resource.
Please email Standards@ukhsa.gov.uk if you have any suggestions for improvement or general feedback.
A redirect will be placed on GOV.UK website to direct users to the new RCPath webpage.
New Chair for BSMT

We are delighted to announce that Dr Mark Wilks has been elected as Chair of the BSMT taking over the role from Dr Valerie Bevan - we thank Valerie very much for her contribution as Chair over the last few years.
Mark Wilks PhD, is a Research Fellow, and Honorary Senior Lecturer at Barts and the London School of Dentistry and Medicine, Queen Mary University of London.
Mark Wilks was previously Lead Clinical Scientist for Research and Development in the Department of Microbiology, Barts Health NHS Trust.  
Mark's work is concerned with the assessment and introduction of new technology such as NGS into the diagnostic laboratory and the microbiome including the use of probiotics and the microbiology of prostate cancer.   
Mark has been a BSMT committee member since 2013 and will continue his excellent contribution to steer the society over the next few years. I hope you will join us in congratulating Mark on his appointment.
CPD
The  Microbiology Conference on 11 May 2023 is registered with the IBMS - download the Self Assessment Sheet.
Articles
Read Topics in Microbiology and infection: a review of the BSMT conference. An article published in Pathology in Practice giving an overview of the recent BSMT conference May 2023.
The following articles are previews of the conference on 11 May 2023. The first Microbial technology: a further preview of this year's BSMT conference covers the global problem of AMR and childhood respiratory infections by Dr Mark Wilks, Chair of BSMT Committee. The second article Topics in microbiology and infection: 2023 BSMT exhibition preview is an introduction to the 20 leading biomedical science companies which are supporting the event. We invite all attendees to visit each trade stand and come armed with your questions to the commercial representatives.
Read Under the Microscope: Microbiology and Infection by David Westrip. A shorter version of this was published in the Biomedical Scientist April 2023.
Read Revolution in genomics and microbiology: the impact of technology by Mark Wilks. A report on the BSMT microbiology conference July 2022.
Read Near-patient testing: experiences and future prospects by David Westrip on behalf of the BSMT (Pathology in Practice, December 2021). David looks back at the last Annual Scientific Conference on COVID-19 and in particular at one of the consequences of the pandemic – the increased demand for near-patient testing and some of the hurdles that will have
to be overcome if it is to be introduced more widely.
Read Back to the Future about the origins of the BSMT in multipoint technology, and its evolution to organising annual microbiology conferences covering a wide range of topics related to diagnostic microbiology. Here, Jim Lindsay and Michael Croughan (founder members) reflect on the society's origins and early development, while David Westrip considers the forthcoming 2022 conference in July (published in Pathology in Practice April 2022).
Read another article by Valerie Bevan Women advancing in science: an ongoing tale of inequalities (Pathology in Practice, October 2019).
Past Events
Follow the link to see information on previous BSMT conferences.
New Website
We hope you like this new website developed by Mike Brind at Step Communications Ltd - many thanks to Mike for his skills and patience during our training in editing the new website.

Our previous website was built 15 years ago by Henry Bevan and has served us well – many thanks to Henry who has provided such good service often at short notice and for his continuing help and advice.



Thanks also to Steve Dillon (also at Step Communications Ltd) for designing our new Logo and for his forbearance in providing many options for us to choose from.
2023 Conference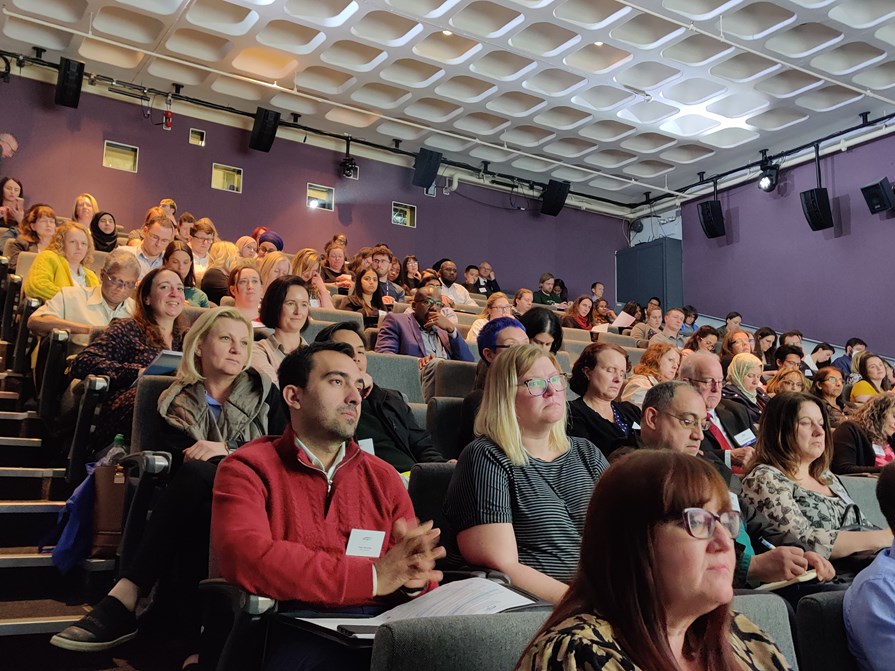 Invitation to Comment on UK SMIs
All microbiologists are invited to comment of the UK Standards for Microbiology Investigations (UK SMIs).

Go to SMI page here