Valerie Bevan
Website / Intranet editor
Email: vbevan@bsmt.org.uk
Biography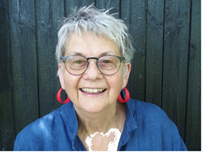 Valerie Bevan, PhD MSc MA CSci FIBMS, Suffolk, BSMT committee member since 1986
Having worked in various NHS microbiology labs, Valerie joined the Public Health Laboratory Service as Head of Technical Services in 1995 and became Director of the Department for Evaluations, Standards and Training in the Health Protection Agency. For nearly 20 years, in this and previous roles, Valerie led the development of UK Standards for Microbiology Investigations and chaired the working group for developing bacteriology methods for many years. She sat on the IBMS Council for two years where she was diversity champion. Her interest in gender and other equality and diversity issues led to her studies for an MA and PhD in Management Learning and Leadership.
Based on her PhD, Valerie's book: Knowing her Place: Positioning Women in Science (1) was published in December 2017 by Edward Elgar. She was a 'Sofa Guest' on Radio Suffolk where she was able to talk about her life as a biomedical scientist and was invited to promote her book. She has recently written a number of articles for Pathology in Practice about the position of women in healthcare science and also on the demise of Public Health England: It's goodbye PHE and hello National Institute for Health Protection.
Valerie and her husband Byron have a small collection of Classic Cars and she edits a Car Magazine for the 289 Register (https://www.the289register.com), a club for AC Ace and Cobra owners, builders and enthusiasts.
Since moving to Suffolk in 2015, Valerie has taken up painting, and favours oils.
(1) Knowing her Place: Positioning Women in Science by Valerie Bevan & Caroline Gatrell
Published by Edward Elgar in the New Horizons in Management series
Use the code PLACE35 for a 35% discount at https://www.e-elgar.com/shop/knowing-her-place
See also: Bevan V, 'Experiencing a secret career in healthcare science' in A Alexander-Stamatios, C Cooper & C Gatrell (editors), Women, Business and Leadership. Cheltenham: Edward Elgar Publishing, pp. 247-59.
Bevan V, Women advancing in science: an ongoing tale of inequalities (Pathology in Practice, October 2019).